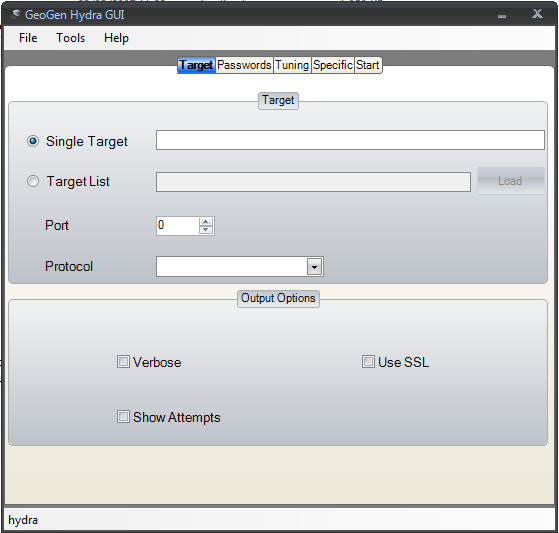 GeoGen Hydra GUI (Hydra GUI)
ABOUT
----------------------
GeoGen Hydra GUI based on hydra 5.4 by van Hauser / THC (http://www.thc.org).Our main goal is to make its easy and simple, by making GUI (Graphic User Interface).In additional we include Words List Inspector, which going thru the words list and filters words by specific parameters the user has chosen and
BN+ hash attacker by [RTS]BN+VS*
THIS TOOL IS FOR LEGAL PURPOSES ONLY!
INTRODUCTION
----------------------
Number one of the biggest security holes are passwords, as every password security study shows. This toolis a proof of concept code, to give researchers and security consultants the possiblity to show how easy itwould be to gain unauthorized access from remote to a system.There are already several login security tools available, however none does either support more than one protocol to attack or support parallized connects.Currently this tool supports:TELNET, FTP, HTTP-GET, HTTP-HEAD, HTTPS-GET, HTTP-HEAD, HTTP-PROXY, HTTP-PROXY- NTLM, HTTP-FORM-GET HTTP-FORM-POST, HTTPS-FORM-GET, HTTPS-FORM-POSTLDAP2,LADP3, SMB, SMBNT, MS-SQL, MYSQL, POSTGRES, POP3-NTLM, IMAP, IMAP-NTLM, NNTP,PCNFS, ICQ, SAP/R3, Cisco auth, Cisco enable, SMTP-AUTH, SMTP-AUTH-NTLM, SSH2, SNMP,CVS, Cisco AAA, REXEC, SOCKS5, VNC, POP3 and VMware-Auth.However the module engine for new services is very easy so it won't take a long time until even moreservices are supported.
DOWNLOAD
----------------------